The berthing aid System aggregates vital approach data with traffic lights and LED panels. With this system the pilots and marine personnel can make the best decisions for a safe berthing process.
The Berthing Aid System consists of:
A large LED display
Eye safe lasers
Audible alarms and handheld devices
Traffic lights
Before and after the berthing process, the large LED display can be used to show berthing information (approach distance, speed and angles).
After the vessel is moored and in contact with the fenders, the system monitors fender deflection and drift When something is wrong, the system generates alarms.
During the mooring process, the quay and the ship are safe. This safety is ensured by the adjustable alarm settings for boat speed and angle.
See also other products related to Jetties: marine loading arms, gangway access systems and quick release mooring hooks.
If you have any questions, please contact us via Whatsapp or our contact form. We will be glad to help you.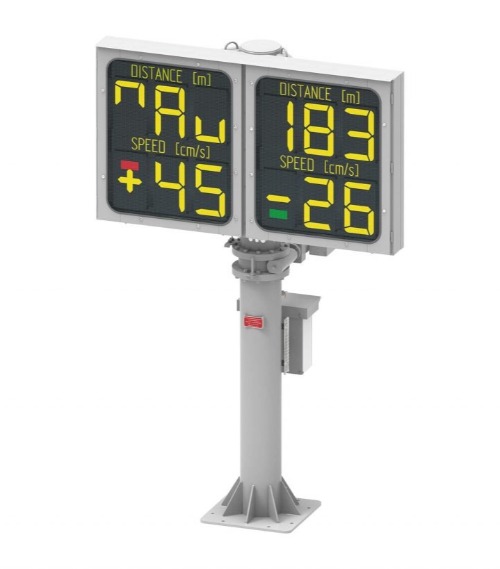 Benefits of our Berthing Aid System
Reduced operational costs such as damage to the quay, fenders or the vessels themselves
Improved safety control
Monitoring in real time and creation of a data log including reports, maneuver replays and historical records
Visualization of data on different devices and platforms
Two high quality, robust eye safe lasers. These lasers are class 1 in an ATEX enclosure ATEX.
Audible alarms and handheld devices
The application iMoor can be run on PCs in the dock control room . Onboard computers, laptops, PDA and pagers can display information with handling data of high quality, tuned for the highest possible accuracy at the fastest possible update rate .
Part of the Berthing Aid System is the LED Display. This large display provides data of berthing services interest to pilots and ship's crew. The LED powered digits are clearly visible beyond 300 meters in all weather conditions, day and night. The viewing angle both horizontally and vertically is 120 degrees.
The LED display shows the following data:
Distance
Approach speed
Speed alarms
Berthing angle
The LED digits are maintenance-free and have a very long service life. They can use the large LED display to show mooring and environmental information. An example is data from the weather station and the wave, tide and current sensor, but also drift and fender compression during mooring. Traffic lights are integrated into the large LED display and provide warning alarm.